Hey Lovelies,
Like me you've probably gone through this scenario of looking into your closet before dressing for work, school or an event and saying the following, "I have nothing to wear," or "I hate my clothes,"…this happens every other week for me. I know as a stylist I'm suppoooosed to have it together and normally I do but like you I'm usually overreacting or
Let me say For 1. YOU have the clothes to make it work and 2. If you're missing something, BUY it! It's that simple. But before you're ready to buy missing pieces especially for those who are budgeting ??‍♀️, read this and put aside some time for closet therapy!!!!
So if you who are constantly in a state of "I don't have any clothes! or I don't like my clothes", I'm here for you!
Here's your First Tip
Start with Your closet!  It will save you money and spark new ideas you never you thought had.
STEP 1:  Wash and dry all your clothes and hang them in your closet.  Believe me when I tell you my complaints about not having anything to wear is usually self imposed because I haven't washed clothes, therefore judging my wardrobe without seeing it in it's entirety…smh. So assess your situation from a full deck before assuming you have nothing to wear.
STEP 2:  Get new inspiration by using Pinterest or Google!!  With both search engines simply type in the description of a shirt or pants you have for ideas to populate.  Pinterest is a platform that I Highly recommend and use almost daily when it comes to communicating to my clients for I do it through pinning style ideas from the internet on to shared boards.
I also use it personally for all facets of my life for it gives me amazing inspirational ideas that I never thought of especially when it comes to style. Pinterest is all pictures linked to blogs which I find makes it easier to find wardrobe ideas.  So you must try it out…WARNING: It can become addicting lol.  For example, if you have a blue short sleeve blouse you wear to work every other week and you're tired of wearing it the same way because people are starting to notice, here are some new ideas you will get on Pinterest:
STEP 3:  Organize and Cleanse your closet-  put on some music or old episodes of your favorite shows or movies that you know all the words verbatim to (A Different World for me ?) as background noise. Then put your unseasonable clothes away, put them out of plain view by putting them underneath the bed, in another closet or just in the back…we'll work with them at the end of the summer.
Next, with your seasonable clothes remove items you DON'T wear or that are worn out beyond repair.  As a gauge, if you haven't worn it in over 3 years because you either dislike it or can't fit it get RID of it.  Don't live in the past or future but find happiness and confidence in living in the present.  Wear clothes that fit your Now body and rid yourself of the baggage of yester years or ideals.
STEP 4:  Put together outfits in new ways-  with the ideas you got for your blue shirt on Pinterest, pair them with new bottoms, whether it's with a contrasting color, skirt instead of pants or patterns instead of those black slacks try something new.  You can can try it on, pair it together now to save you time in the morning or take pics so you'll remember.
For my neutral color lovelies I have an idea for you, get dressed using the color wheel.   By mixing your clothes in unexpected and different color combinations you can make them look new and exciting!   I think this is a game changer for those who shy away from colors so take a chance!
For daily inspiration, print out this wheel, post it in your closet and try to implement color with complementary, analogous or primary colors .  Again if you're missing something buy them!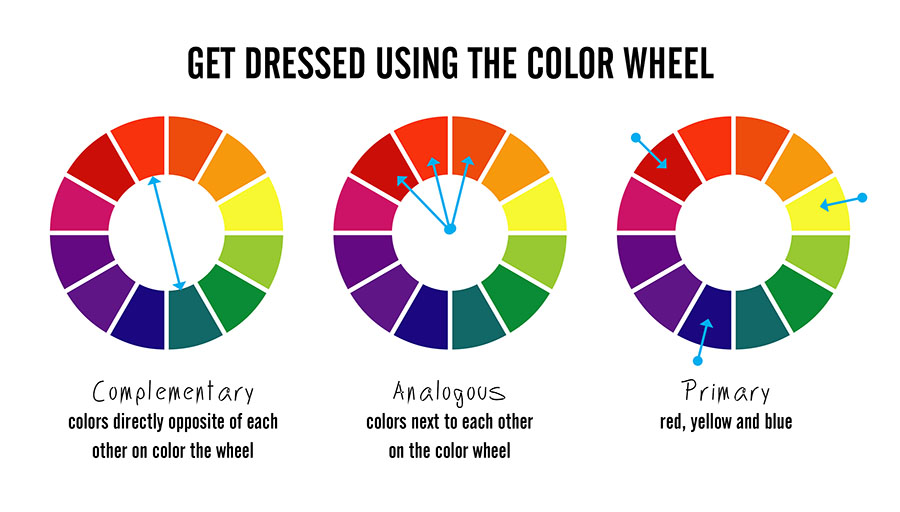 In closing I do hope this was helpful, if you're in style rut with "nothing to wear", start with what you got, get rid of the clutter, remix your old clothes into new outfits and as I mentioned if you don't have it go buy what you need.  PLEASE DON'T FORGET YOUR SHOES AND ACCESSORIES FOR THEIR LIVES MATTER!!  Whether it's a pop on your earlobes or on your feet, they really do seal the deal.
Let me know if this was helpful or share your thoughts.
In Style,
RoxieB